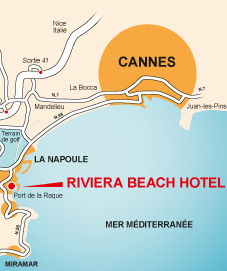 From the motorway A8, take exit 40-Mandelieu.
Continue on the D6007 to your destination
10 min. (4.9 km)
Merge onto Avenue de Cannes / the D6007
110 m
Sharp left to stay on Avenue de Cannes / the D6007
180 m
Keep right and stay on Avenue de Cannes / the D6007
At the roundabout go straight to Boulevard du Bon Puits / the D2098BIS
At Rond-Point des Balcons Riviera de1ste exit onto Rue du Capitaine de Corvette Marché / the D6098 towards St Raphael / Théoule
Continue on the D6098
800 m
Sharp left
69 m
Turn right at Val de la Rague
You have arrived at Riviera Beach Hotel
Port de la Rague, 06210 Mandelieu-la-Napoule, France
GPS coordinates
Latitude 43.517175, Longitude 6.939717
Surroundings
Mandelieu-La Napoule is located in southern France. Ca. 8 km from Cannes and approximately 38 km from Nice.
Nice International Airport is approximately 30 minutes drive.
The Marseille airport is 1.5 hours away.
Cannes is an international railway station. From here leave TGV to Nice and Lyon-Paris.
Made in Mandelieu-La Napoule is a train station.